September 1, 2017
Should the Color of Gas Price Changers Be Standardized? Voice Your Opinion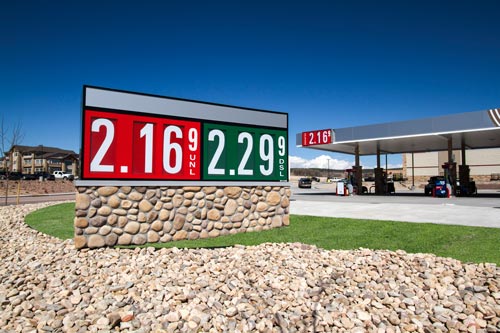 Skyline Products' conducts a research study to analyze the correlation between fuel commodities and gas price sign colors.
Colorado Springs, Colo. – Skyline Products, a leading manufacturer of electronic fuel price signs has launched a research project designed to explore the commonalities and correlations between the use of gas price changer colors and fuel commodities sold.
"Skyline manufactures thousands of gas price signs annually – many of which share some long-standing color schemes while others feature unique branding," said Chip Stadjuhar, President and CEO of Skyline Products. "For example, the majority of LED and scroll price digits manufactured utilize green for diesel and red for unleaded – but retailers are free to use colors at their own discretion. Additionally, as new commodities are introduced our retailers ask us for advice on what new colors resonate with the retail customer."
Skyline Products is conducting a survey to not only gauge what the entire market is using – but to capture retailers' opinions on if there is a benefit to adopting some type of industry standard. Early indications from the survey show that about 60% of fuel marketers are in favor of standardized colors for specific fuel commodities. Additionally, Skyline will also poll retail consumers to determine if color correlations impact their recognition of fuel type sold and buying decisions.
Offer your insight into this hot topic. Click here to take the survey. It requires less than 5 minutes to complete – participants can also register for the drawing of a $100 Amazon gift card.
About Skyline Products
Skyline Products helps convenience stores and fuel retailers differentiate themselves and increase automotive traffic through electronic LED and scroll price signs that are Designed to be Bold, Engineered to Last. Since 1970, Skyline has invested heavily in research and development to create the industry's most legible and reliable price signs. Fully designed and manufactured in Colorado Springs, CO, our industry-exclusive technologies provide superior display feedback, unmatched brightness control, exceptional full-bodied digits, advanced energy efficiency, and military-grade durability. Additionally, Skyline provides customers with price-change confirmation and the most advanced sign diagnostics on the market. Learn more at SkylineProducts.com.